visiting IP:
3.92.74.105
Are you torrenting safe?
more info
Torrent details for "All In with Chris Hayes 2020 09 14 720p WEBRip x264-LM" Log in to bookmark
Language:
English
Info Hash:
c1119af0d81e040dc6d1f9eec7e791f443713302
Health:
File List (1) :
Thanks for rating :
tinous
(5),
Runtime:
60 min - Rating: 6.4
Plot:
All In with Chris Hayes is political television program hosted by Chris Hayes and features in-depth political commentary from prominent politicians, journalists and political strategists. The program airs weeknights on the cable news channel MSNBC.
MSNBC

All In with Chris Hayes
September 14, 2020
Resolution: 1280x720
Duration: 45 minutes
Partial list of segment titles:
- 'Irresponsible, arrogant': Nevada Gov. Sisolak rips Trump for holding indoor rally
- 'Dangerous crank': Hayes on HHS officials undermining science to boost Trump politically
Screenshot: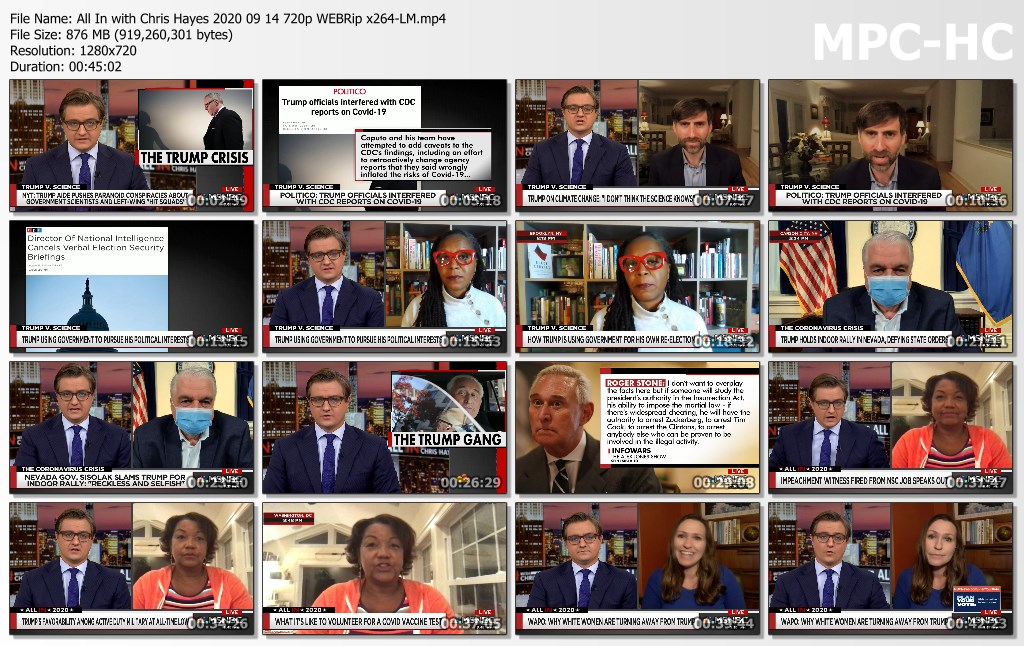 Torrent Hash: c1119af0d81e040dc6d1f9eec7e791f443713302
Name
DL
Uploader
Size
Added
-
1,658
[8/0]
18/09/20 16:53
-
2,209
[8/1]
15/09/20 14:32
-
1,667
[7/0]
25/09/20 14:50
-
2,858
[7/0]
26/09/20 16:46
-
2,617
[7/2]
12/09/20 09:48
-
1,312
[6/1]
22/09/20 14:08